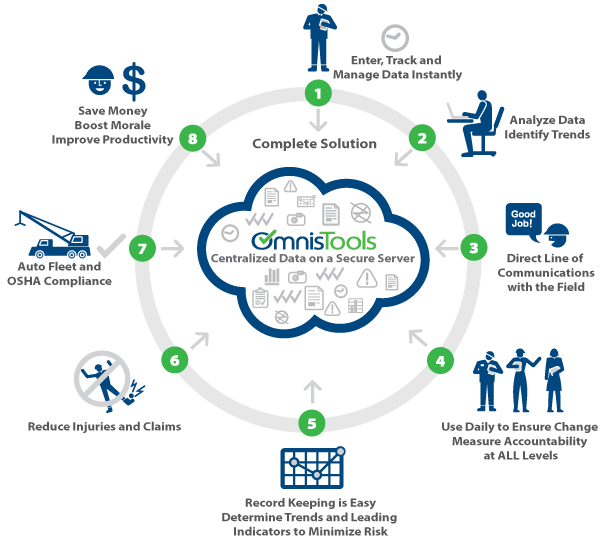 Manage, access, and track all data on the secure OmnisTools web site.

Workers in the field can easily and instantly retrieve past records and save new information. Multiple levels of password protection ensure that employees can access only the specific information they need, while guarding your confidential data.

Workers use OmnisTools software daily, keeping track of all tasks and data. This information is stored in one place—our secure web site—for easy retrieval. If a worker is maintaining equipment in the field, he can pull up a company form, then complete, save, and email it at the same time. He can also attach photos and video he takes in the field.
OmnisTools has checklists that can be assigned to workers for their specific tasks. The checklists help keep your company OSHA compliant. You can document completed tasks and compliance out in the field. The checklist keeps each worker focused and on task.
You can also create and add your own specific checklists to OmnisTools, customizing the solution for your unique requirements and ensuring flexibility as your needs evolve.

Complete software solution for heavy industry, seamless integration between mobile devices and personal computers.

OmnisTools works with your existing technologies to create a seamlessly integrated software/hardware solution. For instance, you can use a LTE enabled tablet, which you take into the field and bring back to the office. You can complete a company form, take a picture or video, save it and email it to anyone while in the field. Documents are date-stamped and saved in OmnisTools secured website.

Direct line of communication from and to the field.

Replace punitive or arbitrary communication styles with peer to peer collaboration and coaching. Employees can email questions from the field and receive answers instantly, so they better perform their tasks and serve your customers.

Communication among all field workers, supervisors, and management improves significantly. Using OmnisTools software daily, workers at every level become more focused. Their issues and concerns are heard and addressed by management. Problems can be solved quickly out in the field. Compliance with federal and state regulation can be documented and saved for future inspections. Data is saved and measurable. Workers begin to feel valued by their supervisors and top management. Productivity and moral goes up.
Workers can review past maintenance records stored in Omnis website, and obtain knowledge they need to service customers. They can take pictures or video and e-mail to supervisor to obtain an answer to a problem. If there are any issues, they can take a picture or video to address the problems on the spot, and protect themselves and your company from potential liabilities.

Using OmnisTools daily ensures lasting company-wide change.

Employees use OmnisTools software every day, quickly transforming poor habits into industry best practices. Accountability is measured at every level, with date-stamped data. Workers can stay on task by using a checklist created by Omnis or your company. The checklist provides workers with a sense of achievement, and at the same time helps them be more focused. Collaboration among workers is facilitated. Poor work habits are eliminated, as are the "gray areas" that can cause confusion, delays, and misinformation. Moral is improved. Peer-to-peer training helps further increase productivity, performance, and company loyalty.

Use a tablet as an electronic clipboard.

The tablet works as a simple-to-use electronic keyboard, storing data on the OmnisTools site. Records are easy to access so you can determine trends and leading indicators that can cause accidents and future problems. This minimizes risks and lowers your cost of business.

Upload any form such as a maintenance record, a service record, and checklist, in a PDF or Word format. Workers easily pull up, complete, save, and send the form right from the field.
Take a picture or video of any issue in the field and send to the supervisor for a quick response and resolution.

Document activities to reduce OSHA claims and fines, prove compliance, and lower insurance premiums.

OmnisTools has checklists that can be assigned to workers for their specific tasks. The checklists help keep your company OSHA compliant. You now have documentation to prove that employees are on task and compliant. Through OmnisTools checklists, workers stay focused and regulation-compliant in the field. You can also create your own specific checklist and incorporate into OmnisTools.

Tailgate and safety meetings can be documented, retrieved, and referenced with handouts saved in Omnis server. All employees are uploaded in the OmnisTools software by department and role, making it easy for you to verify their attendance.
Observations of employees can be documented for performance reviews. Management can also observe and read other supervisors notes on employees to learn about poor behaviors, potential issues, and other problems.
Documentation of accidents and record keeping can be stored in one place. Since documents can be downloaded into Excel, trends can be detected early and preventive measures adopted to avoid potential risk exposures. This minimizes OSHA fines and Workers Comp claims.
Accidents and accident-related information can be analyzed to determine the root cause and put in place preventive measures.

Fleet vehicle record keeping for DOT compliance

Drivers of trucks and other fleet vehicles can shoot pre-trip and post-trip video which you can save on our secure website for future BIT inspections. While they're walking around the vehicle, voice recognition software lets them describe what they're seeing and or showing. If there's damage or another problem, an email or picture can be sent to the shop to confirm whether the vehicle is safe to operate. This also helps reduce legal liabilities and documents damage for claims.

Save money by drastically cutting costs for overtime, fines, insurance premiums, and claims.

Employees stay on task due to checklists and documentation in the field. Employees throughout your company become more efficient and accountable. Overtime, claims, and OSHA fines are reduced. Communications, morale, and productivity are improved. Since claims are down, insurance premiums are reduced, stay flat, or minimized. Everything is measurable since data is stored and can be retrieved from just one place.