Our Mission Statement
OmnisTools mission is to provide entirely new and better ways for companies in labor-intensive industries to communicate out in the field from anywhere. This includes tracking data that can be accessed easily and intuitively, with minimal or no training for all levels of workers. Our goal is to provide companies with insight from their own data – resulting in improved efficiencies, communication, morale, productivity and dramatically reduced costs.
---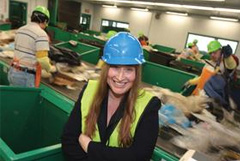 President
Tammy Gaw
Tammy has 31 years of business experience, of which 14 years were spent working for several large national law firms specializing in environmental, pollution and business litigation. In 1995 Tammy left the legal profession and moved to the insurance industry as a Property Casualty broker. She specialized in high-risk industries with heavy labor forces. Her work experience includes working for companies such as Minet, a specialty broker who placed business such as oil rigs in Iraq, and often would manuscript policies; AON, an insurance broker firm specializing in program business; and Marsh & McLennan companies, the world's leading solutions provider in risk, strategy, and human capital for the Fortune 1000.
With her tenacity, attention to detail, strong business and legal background, and experience in environmental issues, she was often called upon to help companies with complex, challenging risk exposures solve and circumvent existing and future client costs. Understanding the challenges and reasons that cost companies money, Tammy identified or created sustainable long-term solutions to prevent financial and human capital risks. While living in the heart of Silicon Valley, she combined her specialties together, working with technology, environmental clients to develop sustainable working solutions.